Our first kit ever might always be my favourite - being an occasional Tall Ship sailor, and it being the beginning of a great adventure.  Link at the end of article to all of our Writerly Kit Reveals!  
The Intro:
       A ship at sea can face raging winds and wild seas, or endless days of no wind, drifting nowhere. The ship's survival depends on being seaworthy – no rotting wood hiding away in dingy corners, sails regularly surveyed and stitched, resources for repairs kept in good shape, and a sailor's sharp eye on her unique nuances as she confidently, bravely, and joyously explores the endless possibilities of the mysterious ocean. 

      As a writer, you are both the ship and the crew. There's no straight track from point A to B, nor would you wish there to be. Your unique way of thinking is what calls you to writing, and you love that there are endless ways to explore your stories and your life. It's a bit crazy, though, how much can get in the way: advice from those considered experts, advice from family or friends, fear of being 'not good enough,' Netflix, and the list goes on and on. In this Writerly Kit, I am delighted to share creative tools and resources for you to discover YOUR best way of getting to your writing more often.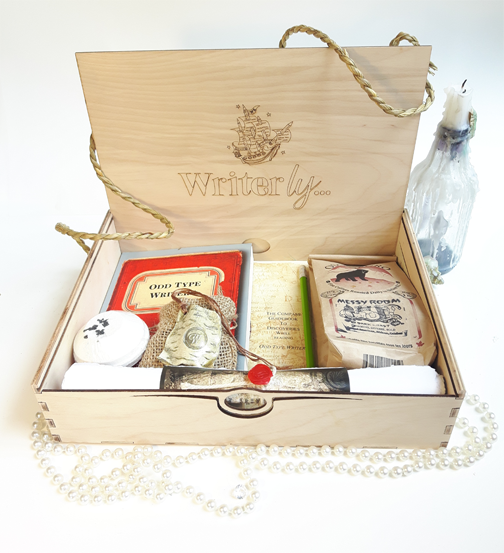 What's Inside:
Writerly Kit - a stunning engraved birch wood box designed especially for Writerly Kits by Kyle Rankin, and supports Kamloops Makerspace, a local non-profit creative collaborative. (For subscribers, every 4th box will be a birchwood box. Regular, but nice, packaging in between)  This wood box is in it's natural state and becomes a part of your creative adventures: write quotes on it, paint it, stain it, sticker it, make it your own!
Odd Type Writers with Compass Guide full of activities and insights to help writers find their own best way to get to their writing.  This is the key to this kit - just what you need to get rid of all those nagging thoughts getting in the way and find YOUR ways to get to your writing more often! 
Oso Negro organic coffee - freshly brewed  in Nelson BC for us called 'Messy Room.' A subtle hint that you don't need to have your house clean before you write.
Treasures Found Shower Steamer - enhancing the magic of inspiration in the shower. Created for Writerly Kits by Love & Lavender, Pentiction BC
Letter from LIsa Stromme, international author - inspiring us as she shares the highs and lows of the wild seas of a writerly life.
Nautical Talisman - See how many knots you travel in your writing with this hand made porcelain talisman. (Created by your curator who is also a ceramic artist)
Eco Friendly Pencil - with a challenge to get it as small as our famous tiny pencil and win prizes.
SIPs - an envelope of inspiration and writing triggers to have with your coffee or tea or whenever you feel stuck.
Navigational Mind Map - a treasure map and radiant thinking process that make our minds happy.
Enjoy our official reveal video with an 11 year old cohort in creativity leading the way!