May 2021 Kit Reveal
The Storyteller - It's Who You Are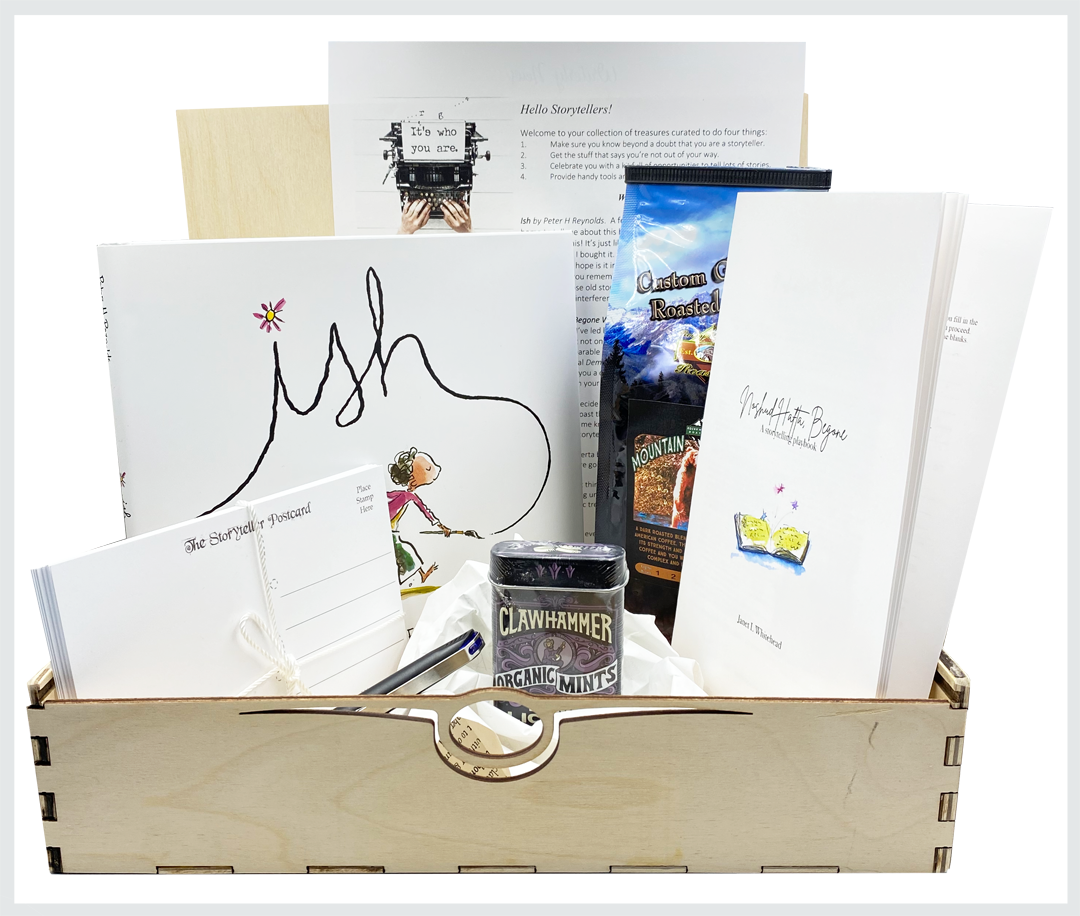 The Storyteller

A writer summed up their challenges with this: "Probably my biggest struggle is believing I am a writer."

It's true - so often all the challenges of getting to your much-loved and much-dreamed-of writing projects comes down to this.

May's Writerly Kit, 'The Storyteller - It's Who You Are" is curated to remove the doubt and even celebrate the sh*t out of the writer that you are.

Isn't that a relief?
What's Inside
Ish by Peter H Reynolds.   One of our all-time favourites for kids and adults. Here to inspire you to practice the art of 'ish' and, perhaps, help you remember what might have gotten in your way in the past. Those old stories remembered are sure to put an end to their sneaky interference in your creative process! 
Noshud Hafta, Begone Work(play!)book.  Based on Janet's book and workshops,  locally and internationally, this storytelling work(play!)book not only sets the stage to write a story, the story may become a parable for you and others. 
Storytelling Postcard Challenge.  Your challenge, should you decide to accept it, is to write a micro story on a postcard and mail it to someone.  Seem scary? Take the step past the fear. Ishly is perfect. Kit includes opportunities to share postcards with other writers.
Mountain Grizzly Coffee. Freshly roasted in Jasper, Alberta by Rocky Mountain Roasters. A good size bunch of beans to keep you fueled for all the storytelling you're going to get to do!
Clawhammer Licorice  Licorice rhymes with Ish.  (The strangest things inspire these kits, sometimes.) And 'Clawhammer?' And licorice as mints?  Okay, people, combining unrelated things can be brilliant. Try it and see what story (or product?) evolves. Also, these are a tasty organic treat to celebrate getting to your writing, even in the tiniest ways.
Crumpled Paper.  I think you may want to uncrumple it. Maybe even tape it on your wall. (Crumpled paper is part of the Ish story. This crumple includes prompts, tips, quotes, and more)
A Very Nice Pen. Because you have some postcards you get to write, a very nice pen will be handy. For those who shared quotes on our damn book done page, a bonus coloured ink pen is included as well. 
March 2021 Kit Reveal
Poetic License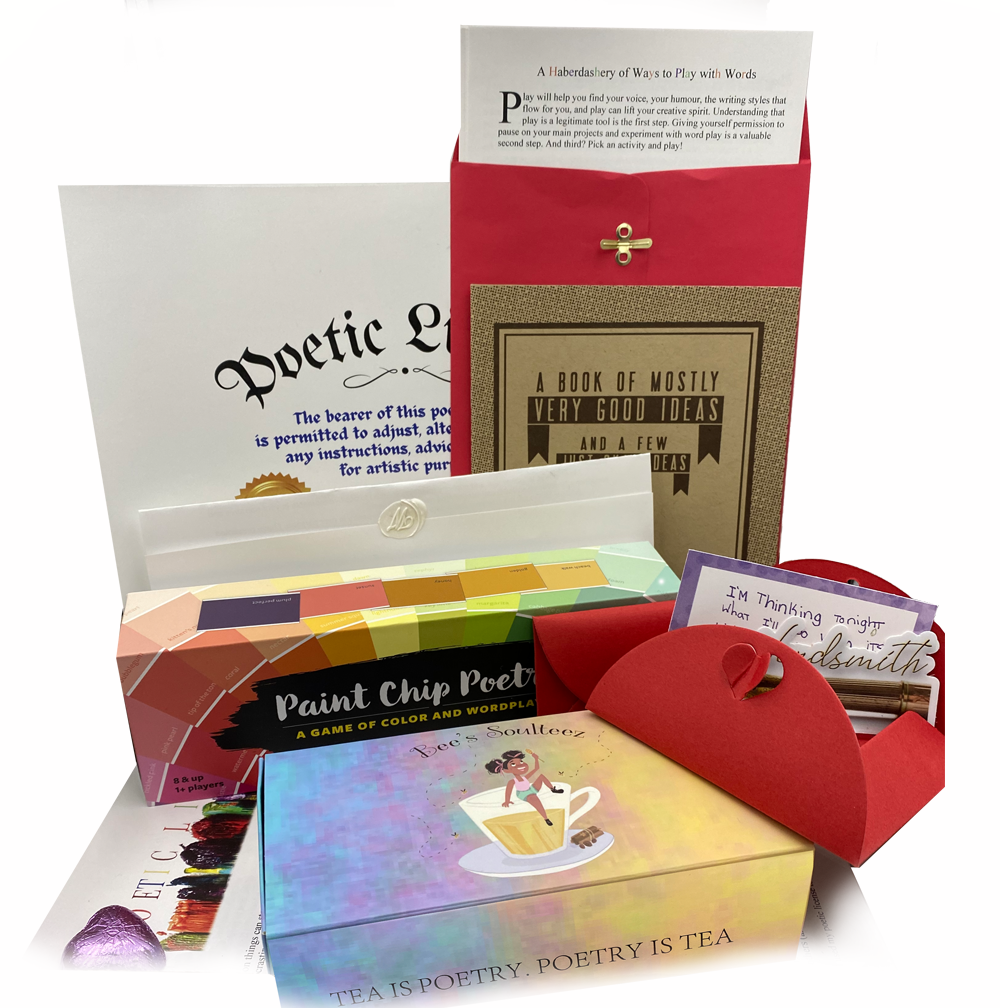 For novelists, memoir writers, those writing fiction or non-fiction, screenwriters, and poets, this kit is for you. Inside are the most playful and powerful word play opportunities - sure to inspire every word you write. Best of all this kit will give a sense of freedom in your writing that you may not yet have discovered! In short, you get to embrace your poetic license; fully and completely granted with the arrival of your Writerly Kit! 
Yup, this is going to be fun…
         What's Inside
Paint Chip Poetry: This is our all time favourite product in a Writerly Kit! -We've played the game regularly since it arrived, plus used pull cards for inspiration for our written works. In fact, the box seems to have claimed the middle of our dining room as its permanent home! More suggestions for use are in the Big Red Envelope. 
'A Book of Mostly Very Good Ideas …' Notebook: From The Regional Assembly of Text in Vancouver, BC. Keep this charming little notebook handy as you explore the activities in your kit. Tip: Do jot down the Just Okay ideas – this helps to overcome perfectionism, plus you may discover there's more to those ideas than you first gave them credit for. 
Shawn L Bird, Contributor:  Poet and author, Shawn L Bird, will have even those most afraid of poetry become enthused to explore between the lines in our words and our lives. In addition to the author's letter, (you'll want to read this letter right away), Shawn has kindly contributed free access to her e-book of poems (see card in kit for code) and created your official Poetic License Certificate. Thank you, Shawn! 
A Haberdashery of Ways to Play with Words:  In the big red envelope, you'll find a collection of ways to play with words from Memoirian Poetry* to run-on sentences to a collection of questionable words; these activities will help you break rules and boundaries and ignite creative play whenever you need a little writerly boost. (Also includes a participatory event: The Depressed Poets Society meeting.)
Emaline helps the Grown-Ups: In the small red envelope, you will find poetry and a collection of words to draw from to create poems. Emaline is 8 years old. She was over the moon when she heard the theme of this kit. She promptly offered to contribute and chose how she would support the grown-ups to write poetry. Very proud to include her ideas in this kit. (There are related tips in your haberdashery envelope.)
Tea is Poetry, Poetry is Tea: It's not our norm to include tea two kits in a row, but really, do you see that box? Couldn't be more perfect, plus the tea from Bee's Soulteez are organic beautiful blends sure to bring a moment of calm to your day.

Wordsmith Sticker: Claim your skill with this stunning sticker prominently displayed on your computer, phone, or notebook. Remind others (and maybe yourself) that you are a wordsmith!
*Memoirian Poetry: I used my poetic license to make this phrase up and the activities to go with it. I rather like it. Do you?
January 2021 Kit Reveal
Damn Book Done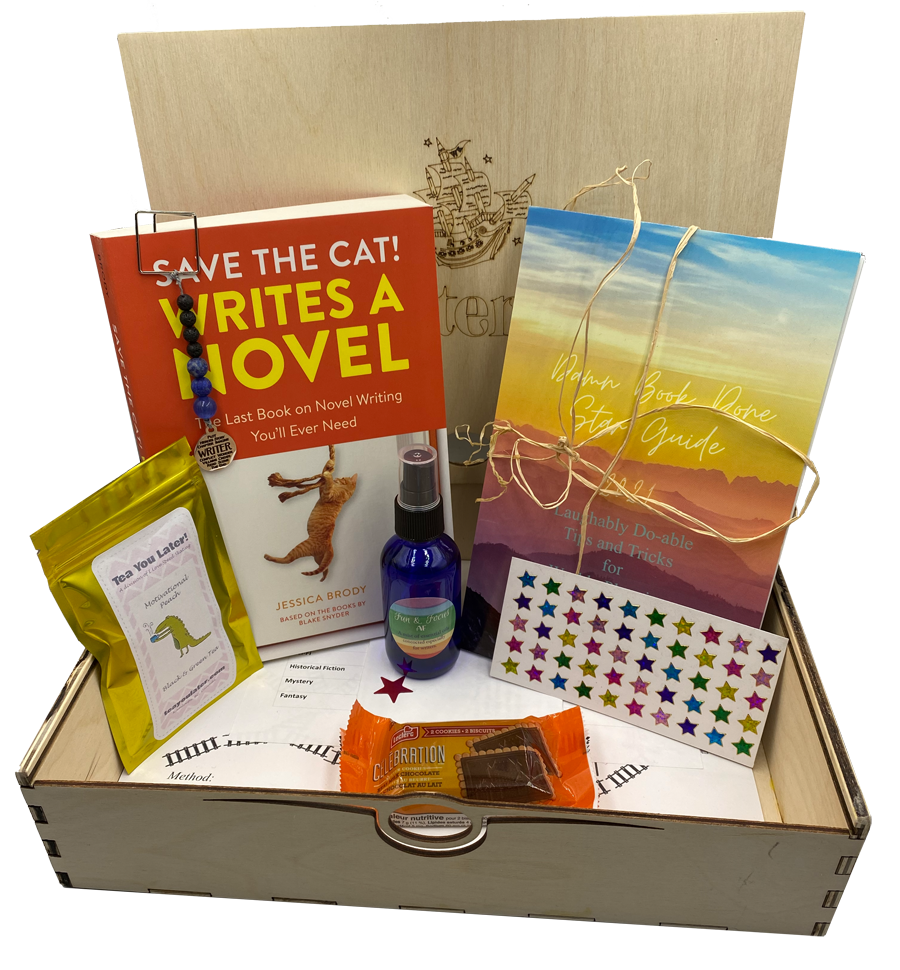 Lighten up, Loosen up, Laugh it up
At the start of a new year perhaps you cheer, 'This is the year I'll get it done!"  This year  can be the year, but let's change it up so this time it really is do-able.  In this kit there are clever tools, do-able techniques, cool resources, and celebration treats to get our writers started. Here's to a year full of creativity!
What's Inside
Weekly Star Chart: Each week writers get to dream up goals, give themselves stars, and celebrate achievements with prizes! There's a bit of magic with star stickers: If you loved getting stars as a kid, awesome. If you were traumatized by not getting enough stars, (and dammit, you deserved them) now writers get to change all that! Comes with an important guide to make your weeks laughably do-able. 
Save the Cat Writes a Novel: This popular book demonstrates what makes a novel work well and how you can apply the method to your written works. Insightful, wise, and worth every minute of the read. Also included; a personal letter to Writerly writers from the author, Jessica Brody!
Fun and Focus AF Mist: A light blend of Siberian Fir and Orange essential oils will provide clarity, creativity, and spirit-lifting good energy; use whenever you need a lift. 
Writer's No-Worry Idea-Maker Notebook Clip: Your creative process requires pauses but do you turn to social media, washing the dishes, or other things that can be too distracting? Inspired by worry beads used in the Middle East; fidgiting with this notebook clip can be the pause you need. The Lapis Lazuli beads bring self-awareness, creativity and, in some circles, supports astro-travelling. (A nice fit for writers!) The lava beads are ideal for holding essential oils. 
On Track 2021: Using visuals to brainstorm can reveal ideas that may otherwise be hidden. Try out 'On Track' for creating goals, setting deadlines, and planning steps to reach your goals. Includes options to consider what might get in the way and how to get past those. 
TeaYouLater: A natural blend of tea affectionately blended in Kamloops BC. Besides good tea, I was charmed by the story of the Alligator artist. The TeaYouLater owners discovered the image and tracked him down for permission to use it. They discovered he is a well-known children's author/illustrator in Africa. In return for use of his image, he simply asked for donations to his local charity, Feed Our Valley. $1 per package of tea is donated to the cause. Our global world has some lovely goodness, doesn't it?
Storytime Prompts:  Sometimes we need a break from writing our main projects. Play with this storytime prompt game when you want a new writing adventure or simply just want to kick start your creativity.
Celebration Cookies: a little prize to get you started as you plan your weekly star chart. Totally not organic. Sorry. But hey, they are called Celebration. How could I not include them?


November 2020 Kit Reveal

"Charmed"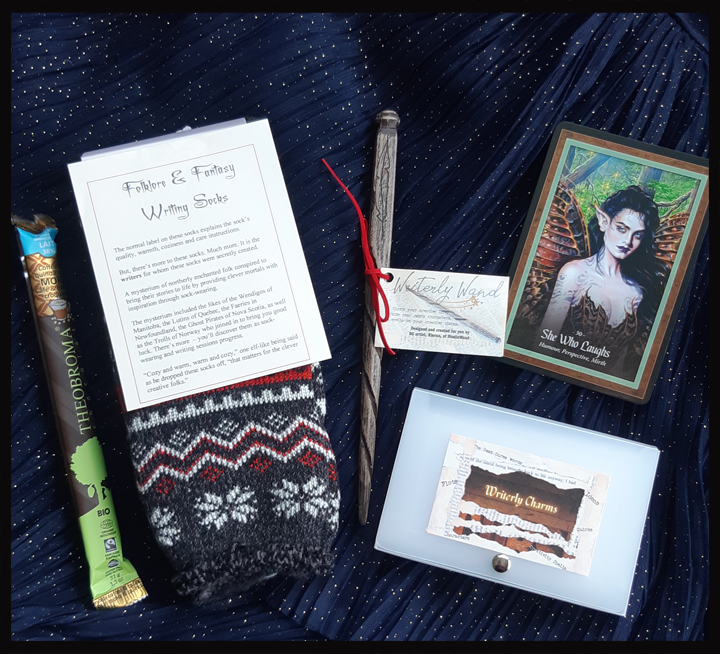 Charm your creative life, 
Curse your nasty characters, 
Cast spells on your creative blocks.
It's time to cozy up to a bit of fantasy in our strange world.
What's Inside
Writerly Wand ~ Designed especially for us by Keiran of Studiowand in Powell River, BC. This wand arrived ready to make magic. @studiowand 
Folklore and Fantasy Socks ~ A mysterium of northerly enchanted beings conspired to bring these to writers. Cozy in and imagine their stories.
Writerly Charms Index Card Holder ~ Index cards are ideal for writers; an effective way to organize ideas, storylines, characters and ideal for creating and keeping your writerly charms and spells. 
Charm School ~ Includes spell casting ideas for your new wand and charming ways to bring fantasy into life and projects. 
Random Faerie Card ~ A unique faerie for every writer - inspiring!
Theobroma Chocolate ~ A delectable and healthy wand of organic chocolate that is probably charmed having travelled with a wand, folklore socks and a faerie.  
Author letter ~ "Who could write about using fantasy to get through challenging times," I asked myself. "Me," I answered. And so, I shared a short story from a collection that is both memoir and pure fantasy; working title Travel 2020. 
Guided Visualization ~ A journey with your imagination is posted privately just for subscribers to discover their magical place and inner wisdoms in a 15 minute visualization.   
September 2020 Theme Reveal

"Out of This World"
The goal of this escape-room style box was to find the answers to everything.  Treasures were wired and locked, but where were the key and the combo code?
 
Writers cracked codes, discovered clues under a false bottom, ripped apart the box to reveal a hidden key and were congratulated for sleuthing their way through decoders and locks to reveal their treasures!
Building this kit was a creative challenge much like writing a book; plot holes in the kit would have been fatal! I held my breath hoping it was plot-hole-free for the writers. Last I heard, most have found their way to open the locks. 
What's Inside:
Celestial 5 Year Journal: A stunning journal with beautiful gold edged pages.  Like the constellations on its cover, writers are reminded they are a mysterious and magnificent part of the universe, with the answers to everything. And, as a writer, they have the way to reveal those answers. In this kit, we've provided prompts and clever ways to make this journal enhance a writerly life and, of course, find the answers to everything.
Writerly Escape Pen:  A reminder that writing is a place of discovery, as well as an escape when the world around you feels chaotic and uncertain. 
Cypher Wheel Prompter:  More than a clue to unlocking locks, the cypher wheel can be used as a writing prompt. Method included!
Crio Brü Beans:Chocolate 'coffee' beans! This Canadian company is brewing up a drink so full of health benefits – it's like the matcha of the coffee world. 100% roasted cocoa beans to feed your body, mind and soul. Learn more on how to brew and health benefits here: criobru.ca
Alternate Identity Trading Cards: An addition for those who already have the set, and something new for more recent subscribers. These are a brilliant way to start your day. Choose a card. Visualize that character and imagine feeling just like them. Then go about your day (and your writing), keeping that new energy with you. You'll love the AHA moments that arrive!
Author's Letter: Cheryl Lawson, sci-fi author, shared an honest, important and inspiring message for our writers.
"The Answer to…" sticker: Mine is already on my keyboard. Keeps me questioning, keeps me curious, keeps me thinking past stuck moments and beyond the challenges of daily life.
Telescope, Tiny Key and Space Rock: Answers to everything? Turn your items into characters and have each of them write you a letter revealing the answers to the meaning of life, the universe and everything. Oh, you may wish to craft a clear question or your answer might be 42.  
Note: The unique space rock may be a piece of a shattered asteroid, or a pebble from Mars, or the long lost treasure of an ancient culture who brought it to earth. Each rock was discovered in a very special spot in British Columbia. You will learn more about that when we get to host in-person writers retreats again.
Locks: What might you use your locks for? Locking luggage? Locking journals you want to keep private? Using the locks as symbolism for unlocking your creativity? 
Sci-Fi Things:Quotes, prompts, and 5 things the Celestial Traffic Controller promised.
July 2020 Kit Reveal 

'Rebel Unleashed!'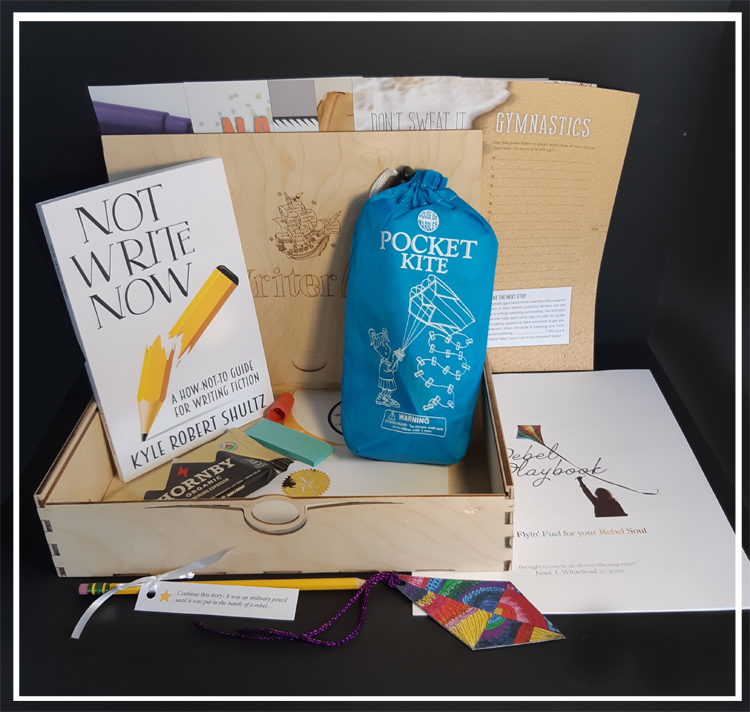 Creative folks are born rebellious – questioning everything, thinking differently, resisting 'normal' - but sometimes we lose touch with the rebel. And sometimes,
we rebel against our own ideas. Sheesh. We are a complicated lot, aren't we?
This kit has arrives on doorsteps to help writers make best friends with their rebel self. After all, they might as well use one of their excellent qualities to get their damn book done, don't you think?
What's Inside
Not Write Now  by Kyle Robert Shultz.
This humorous how-not-to-write book is a brilliant read by an author who clearly understands the rebellious nature of a creative soul. Will your rebel self resist his advice?
Bonus: The book also includes a fabulous resource list for writers. You know, just in case you actually do want to write.
Pocket Kite: This spectacular kite flies with very little wind. It even flies without you having to run at all if there's a nice breeze! I'd like to tell you that the idea of including a kite was because of this quote: 
"It's okay to be a rebel. A kite, rises against, not with, the wind." 
But the truth is, I was playing with my kite one day enjoying the outdoors. The thought of writers having one to play with snuck into my head and refused to leave. To make it a writerly item, writers can imagine unleashing their rebel while they fly their kite. This will justify the time as pertinent to their writerly life.  Or they can just play with it because it's fun and freeing.
Rebel Playbook: Get to know your rebel instincts, both the helpful and the not-so-helpful, in this unique work/play book. Chart your course on the rebellious map and play with all kinds of things to unleash your brilliant creative rebel self more than ever!
Author's Letter: Kyle Schultz developed the power of creating zany, fantastical worlds in his early teens, when he was bitten by a radioactive book. Sounds like the right author to share some thoughts just for us, don't you think? Learn more about our author here: kylerobertshultz.com
Write-Brain Writing Activities by Bonnie Neubauer: I've included several writing prompt pages from The Write-Brain Workbook– a massive workbook that would have been lovely to fit in a kit but 1. It would fill the whole box and 2. It's currently not available in the numbers I needed. If you love the prompts, keep an eye out for the author's other works and/or copies of The Write Brain Workbook!
Hornby Island Chocolate Espresso Bar:An organic energy bar to fuel your creative rebel antics. And Hornby Island? One of the most beautiful and unique islands in the world, tucked right here in British Columbia.
Kite Bookmark: Proud to share the artwork of young artist, L M C, age 9.  Keep this bookmark tucked into your latest read as a reminder to let your inner rebel fly.
An Ordinary Pencil?  In keeping with the cover of the included book, we've included a pencil. But is it an ordinary pencil? I don't think so!
Random Items to Rebel to: Subscribers all found items in this kit that are not listed in their "What's Inside" list. Each item has an obvious use, but writers are invited to resist it!  It could have a new function, story, personality… you name it, it's theirs to reimagine its existence. 
Share discoveries in our Damn Book Done group (or email me if you're not a FB user) and we can all be amazed and inspired by each other!
May 2020 Kit Reveal

Sloth It!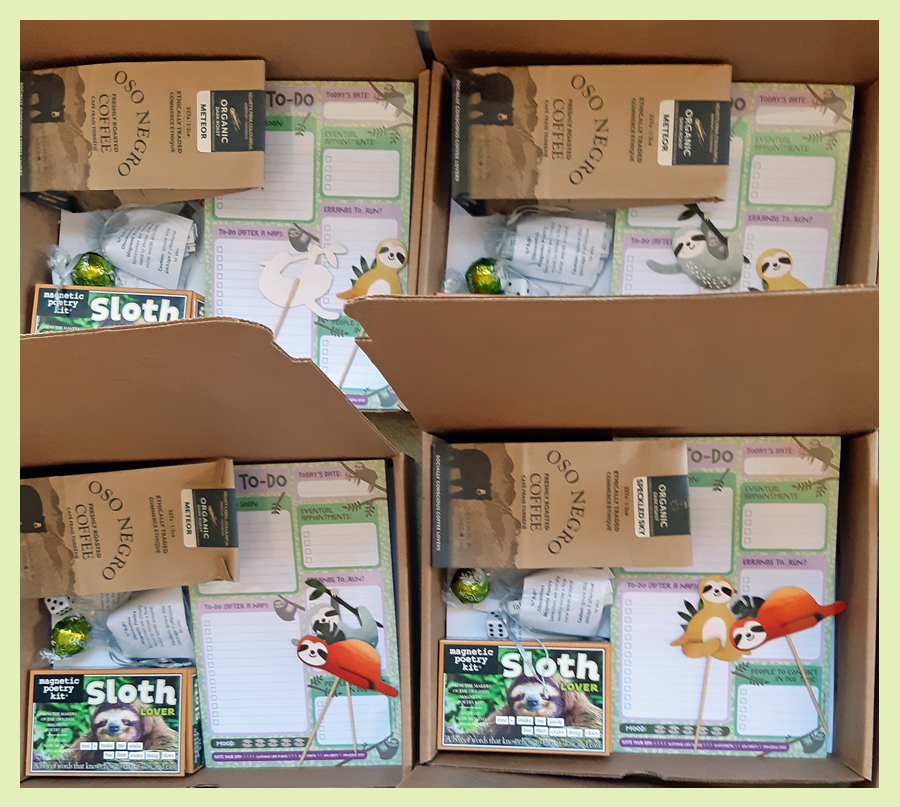 Sloth It!   (kind of like f&ck it, but not)
        Writers get to put on their inactive wear and settle in to practice the Way of the Sloth. You could call this a demotivational kit, but really it's all about taking time to clear your mind of clutter and just, you know, kinda get around to what matters. Slowly, peacefully and with a little smile on your face.
            I know, some of you have time on your hands and are sure you ought to be writing profusely. Finding your way through a pandemic, something we've never experienced before, isn't the same as the free time you've been wishing for. (You know that's true now that I've said it, right?) This kit is meant to help writers find their best way to be in this crazy time. And maybe even get a bit of writing done. 
What's Inside
Sloth Magnetic Poetry  Who'd have even guessed such a thing existed! So many ways for you to create with these words; from fridge poetry, to pulling a few words to inspire the next part of your story, to using with your new game 'Sloth It.'
Obscenities Magnetic Poetry  Let's get real here, life is not all fun and games and smiling sloths, especially now. Sometimes we just need to throw in some curse words.
Sloth It – the Live-Action Board Game Here to entertain you, keep you active-ish, make you laugh, and inspire your writing.   Prize envelope: NO, don't open it!  Save it for the finish line of your board game!
The Sloth and The Writer  Make a cup of coffee and curl up to the philosophy of sloths for writers. Sloth off, sloth yeah, what the sloth…you'll learn it all. A little character study is included to help you bond. Or at the very least, give you a chance to practice a character study!
Author's Letter    Cheryl Lawson, author of The Rubicon Series, shares encouraging words especially for you.
Sloth Planner  A great place to practice what slothing in the best 'small steps' kind of way can mean for you. 60 sheets – don't save them for a better time. Now's a good time to use them up.
Sloffee–I mean, Oso Negro Coffee – local, famous, organic, and fresh roasted just for you. Each with a night time theme, reminding you to go outside at night, look at the stars, and know you are a part of something magnificent, magical, and mysterious.
Sloths on a  stick   will you do with this to keep the spirit of sloth alive?  Stuff it in a cupcake, tape them on or near your laptop, mail one to a friend? Let us know what you come up with!
The Colourful Writer 
Kit Reveal for March 2020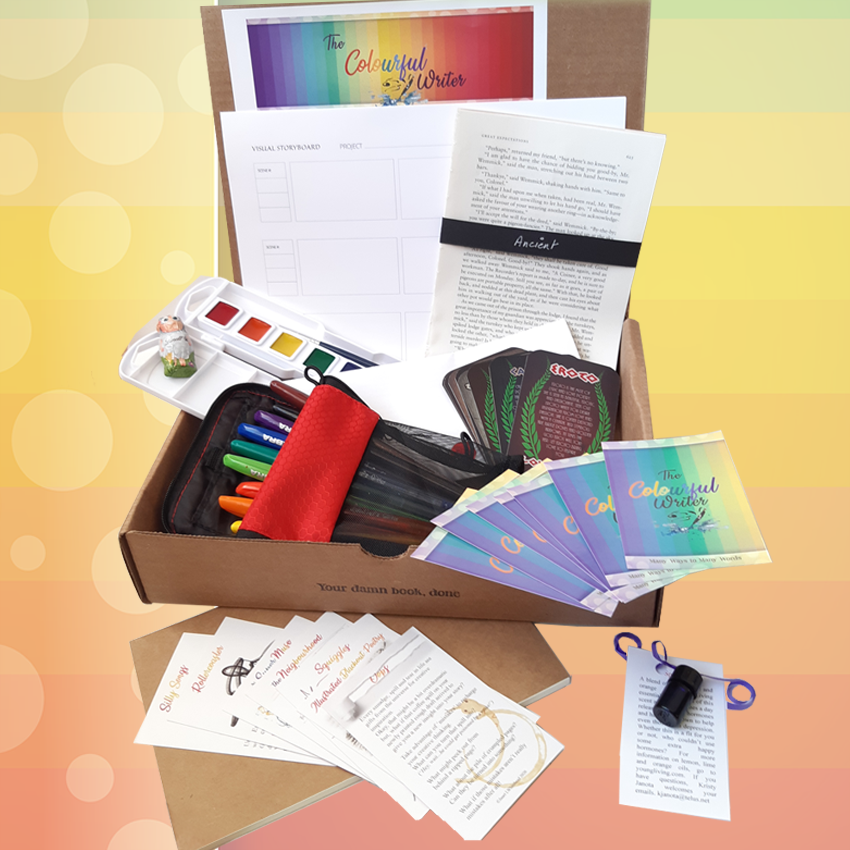 This Writerly Kit is an invitation to dance up an idea, colour a plot, sing a wicked dialogue into being, and collage a character.  Call on all creative mediums to get you unstuck and enhance your written works. Call on all creative mediums for no other reason than it is your calling to explore creativity.
What's Inside
The Cards: There's something a little magical about pulling a random card for inspiration. More often than not, the card you choose is the right card for the right moment. We've included two sets of unique cards for you to play with.
            The Colourful Writer: A collection of creative mediums and techniques (and a couple of naps) to help generate new ideas and/or to simply nurture your creative soul.
            The Nine Ancient Muses: Need a muse? Pull a card and see if the energy of that muse inspires your next sentence, next artwork, or next decision in life.
Doodlerz Gel Pens: Add some colour to all you do. Our favourite brand of gel pen – long lasting, intense colours, and just plain fun. Keep them handy and instead of turning to your usual distractions from writing, doodle with your gel pens: it's a bit like giving your creative process a much needed snack. A black sharpie is included for illustrated blackout poetry escapades. 
The Perfect Pencil Case: with a fold down top making storing and using your cool new gel pens easy.
Prang Watercolour Kit: Practise the art of imperfection with this lovely set of watercolour paints. (What am I talking about!? – the Colourful Writer cards explain!)
Sketchbook: Just a little book to keep nearby for sketching, mapping, doodling and splattering.
Spritely Essential Oil Mix:  This blend of high quality lemon, lime and orange essential oils was created just for you by our essential oil expert, Kristy Janota. (Young Living)  Not just the colourful theme inspired this concoction – citrus essential oils are often recommended to lift spirits. See insert to learn more and recommended use.
Author's Letter:  Chris Bose is a writer, multi-disciplinary artist, musician, curator and filmmaker. He shares his story and his encouragement in this letter written especially for you.
Weirdly wonderful watercolour paper: Much like yupo paper, the non-glossy side of this paper is a delight to play with.    Several tips and techniques included to explore watercolours in ways that enhance your writing, and your life!
Visual Storyboard Template:What if you throw in some illustrations as you create your storyboard? What might that inspire? We've included a sample template for you to experiment with.
Old Book Pages:  wrapped in a unique prompt, this mix of curious pages are perfect for illustrated blackout poetry (see your new deck of cards for How-To!)  (Pages are taken from damaged books - we like to think authors would be happy to know of the new life for their books otherwise heading to recycle)
Magical Realism

Kit Reveal: January 2020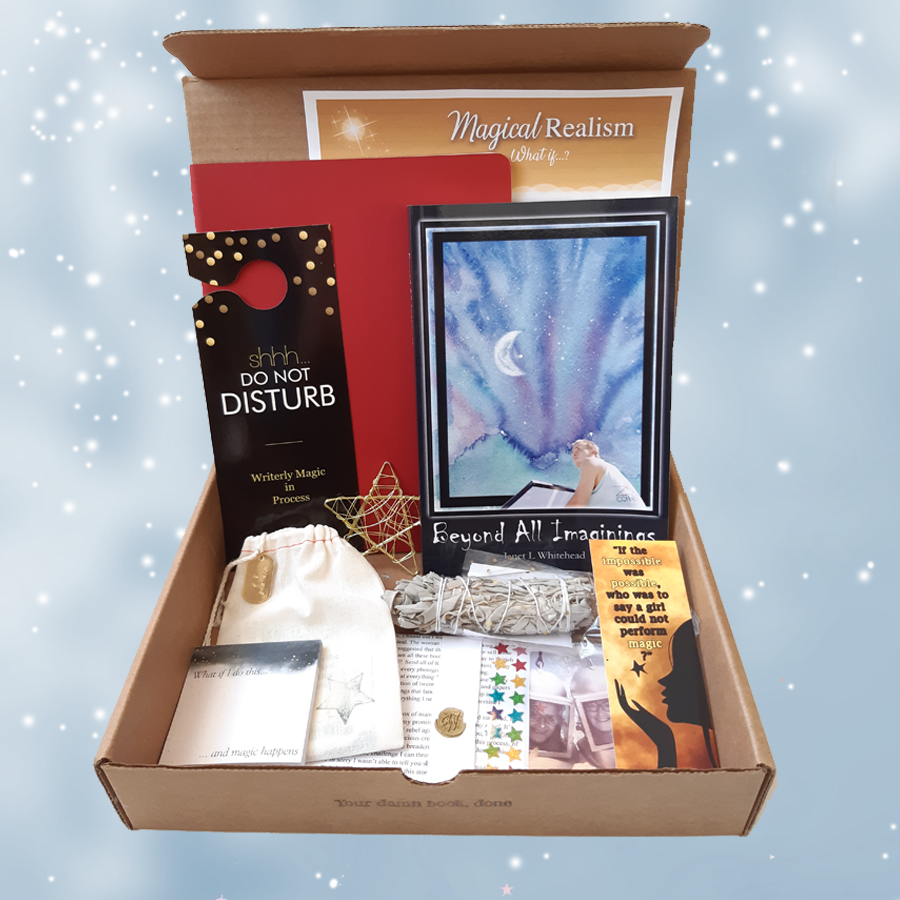 A most curious kit, coming from a person who has lived magical realism and wrote the story to tell about it, and curated to inspire you to explore magic in both your written works and your life. Includes "What ifs..?" - a question our creative minds adore, and that can open doors to thinking more creatively and, perhaps, magically.
What's Inside
Beyond All Imaginings: I'm pleased to say my book meets all the standards of magical realism. Well, except one. It's not fiction. At the time of writing, I hadn't even heard of the genre. Once you read it, you will understand my delight at learning such a genre existed. Except for that fiction bit.
     It is my story, and that includes it being a story about writing a story –a nice fit for curious writers like yourself. It's also a very strange story – you might find yourself relating, or it may open new thoughts about magic, or you might want to just pretend it's fiction to be able to absorb it at all.
     For those of you writing memoirs – putting this unusual story out there is one of the most courageous things I've done. Also, one of the most deeply satisfying. Write your memoir. It's worth it. 
     The reviews are good. Enjoy. I hope my story brings a little magic into your life.
Moleskin Notebook: Yes, it's a Moleskin. But, unlike other special notebooks or fancy journals, this one really wants you to use it, mess it up, doodle in it. You have beautiful notebooks you've never used, right? Waiting for the right topic or the perfect first line? It's that perfectionism issue many creatives have. Moleskins are at the top of the list of causing perfectionism chaos, having a good reputation and a high price. Call this one a beginner moleskin and break perfectionism barriers by messing it up.
Sage Wands:  Created by indigenous herbalist, June Anthony-Reeves from Chase, BC.  Clear energies, welcome new thinking and enhance creative energy.
For your 2020 planning - What if Post-its and Sticky Stars:  Keep 'what ifs' and magical possibilities on your radar as you make note of plans, goals, and ideas for 2020. Give yourself a star whenever you want a star: taking small steps, or just because you are awesome, or highlighting an idea you'd really like to get to, or to make lovely constellations on your new notebook. You deserve stars.
Writerly Magic Door Hanger:Handy little item to get some uninterrupted writing time! The word 'magic' will scare people off. Trust me, THIS I know
'What if…' Pouch: Creative minds ignite when playing with what ifthinking.The eclectic mix in each pouch includes quotes, storytelling cards, and a collection of what ifquestions. The hand stamped brass pendant can also be attached to key chains, jewellery, or zipper pulls as a gentle reminder to assume less, question more, and discover much.
Author's Letter:You'll see why Deryn Collier was invited to share her story with you. Turns out I'm not the only strange author out there. Maybe magical realism is meant for real life after all.
$25 Off the NYC Midnight Short Story Challenge –Kickstart your 2020 writing year with the best damn writing challenge ever. Each writer is assigned a genre, subject and character at midnight January 17 and submit a 2500 word story one week later. This is one wild, inspiring, and fun challenge!
Callisto Crate Bookmark:Callisto Crate graciously contributed a magically inclined bookmark and a $15 coupon. Callisto Crate is my favourite subscription book box - featuring a new release strong woman read and book related, Canadian, artisanal treats, designed to create an indulgent reading experience. www.callistocrate.com
Inky Shadows
Kit Reveal: November 2019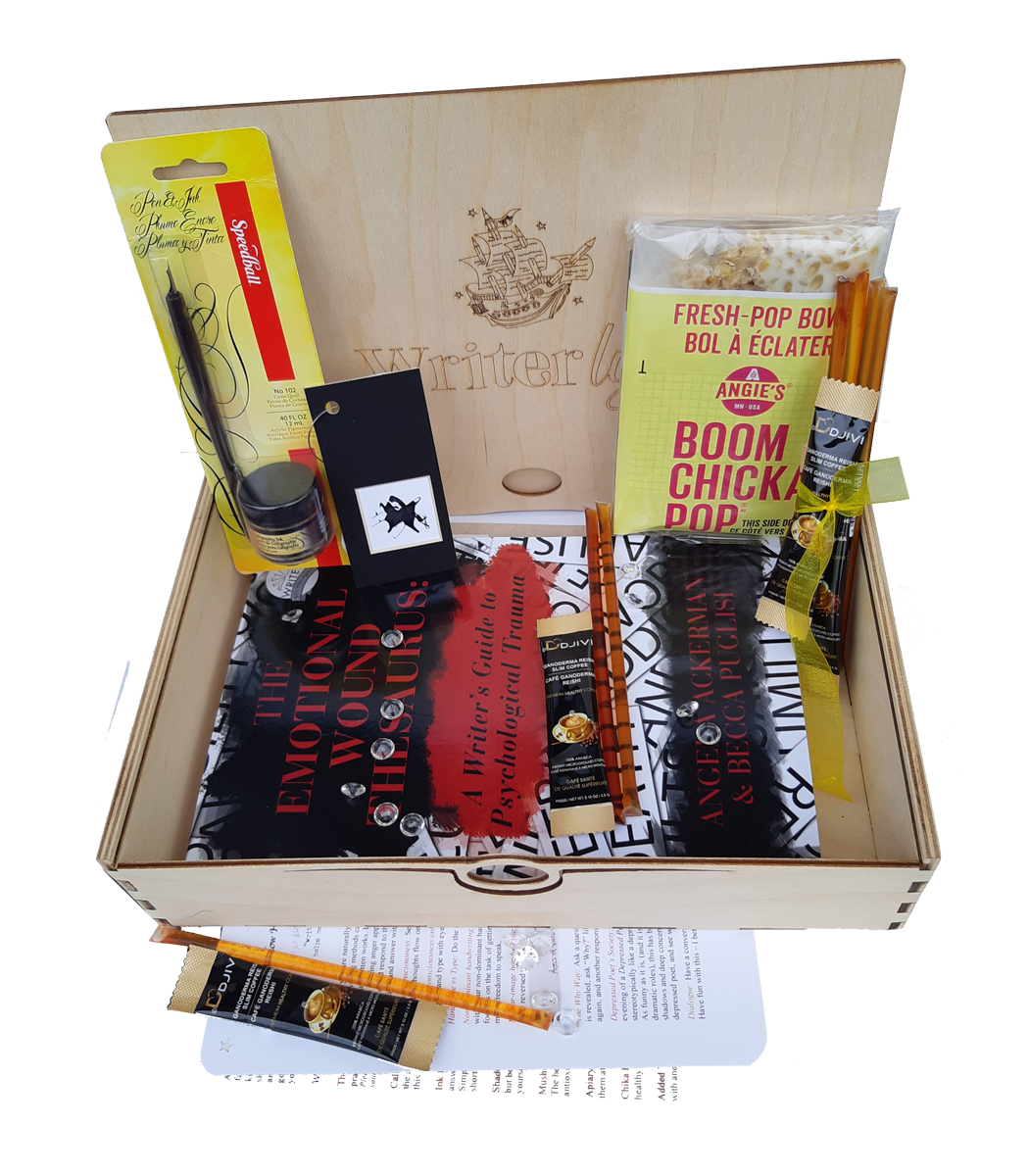 Intro
            Shadows exist. And while we know they are key to a good story, (WOW to the treasure included to help you with that!) we may not realize they are also key to a good life. Heck, they can even help you stop procrastinating and get to your writing.   
         Say what? Our shadows are helpful?
Ah, those shadows – this kit is a powerful one. When we take out our shadow side and have a good look, we discover that it is far less scary or bad than it had grown into in the dark.  Kind of like that noise in the closet; avoiding it, turning it into some kind of horrid creature in our minds, panicking, but when we finally look inside – it's just a pair of shoes that had fallen off the shelf, having been put away awkwardly. This kit is full of opportunities to see shadows for what they really are; how they are getting in the way of  writing and, perhaps, you will discover your shadow arrived with good intentions and now has good advice for moving forward. We've added sweets and treats and playful things to brighten this journey, and to celebrate as you feel lighter and brighter and your writing flows and glows.   Enjoy the process! 
What's Inside
The Emotional Wound Thesaurus: When author Shawn Bird brought this book to our recent Squilax Writers Retreat, writers practically fought over it!  A powerful book for digging deeply into your characters' development.
Calligraphy Pen and Ink: Make your own inkblots, use to handwrite your story, sketch your characters, make a mess, practice the art of 'doing it anyway' when it's not going as planned, and be delighted when you create a stunning swoop!  Have fun with this creative technique. We've included some Strathmore Marker Paper to practice – good paper makes a difference.
Ink Blots: Sure, ink blots remind us of old psychological tools – but damn, ink blots are soooo much fun!  Struggling with an answer? Ask the question, randomly pick an inkblot, write what you see.  Need a writing prompt? Need a creative insight? Simply peek at an inkblot! 
Shadow Hunting Methods – the Writerly Way. As writers, you have access to a gift. These methods will work for anyone, but because writing is more naturally your way to discovery, you will especially enjoy these methods to learn more about yourself and your story characters. As a resource, we've included an excellent article on understanding the Shadow archetype.
Mushroom Coffee: How could I not? Being all dark and all. Proof, though, that things that grow in the dark can be awesome. The health benefits of this coffee are wonderful: 'provide focus, energy, and overall wellness, and they're overflowing with antioxidant properties that may support your immune system.'
Apiary Fresh Honey: A mix of specialty honeys from our local North Thompson Apiary. If you love their honey, you can reach them at 250 318 3348. (Their website is currently being revamped)
Chika Boom Popcorn:I don't own a microwave. After trying this at a friend's, I may have to buy one. This is one organic, healthy product that feels like it's not. So pretend it's not, and savour your sinful treat! 
Added Tidbits from Writers Helping Writers: Love love love the authors of your new book. They've been a delight to work with and I'm happy to share more info about them and all the ways they support writers.
K

i

d

s

a

n

d

a

S

a

s

s

y

M

u

s

e
September 2019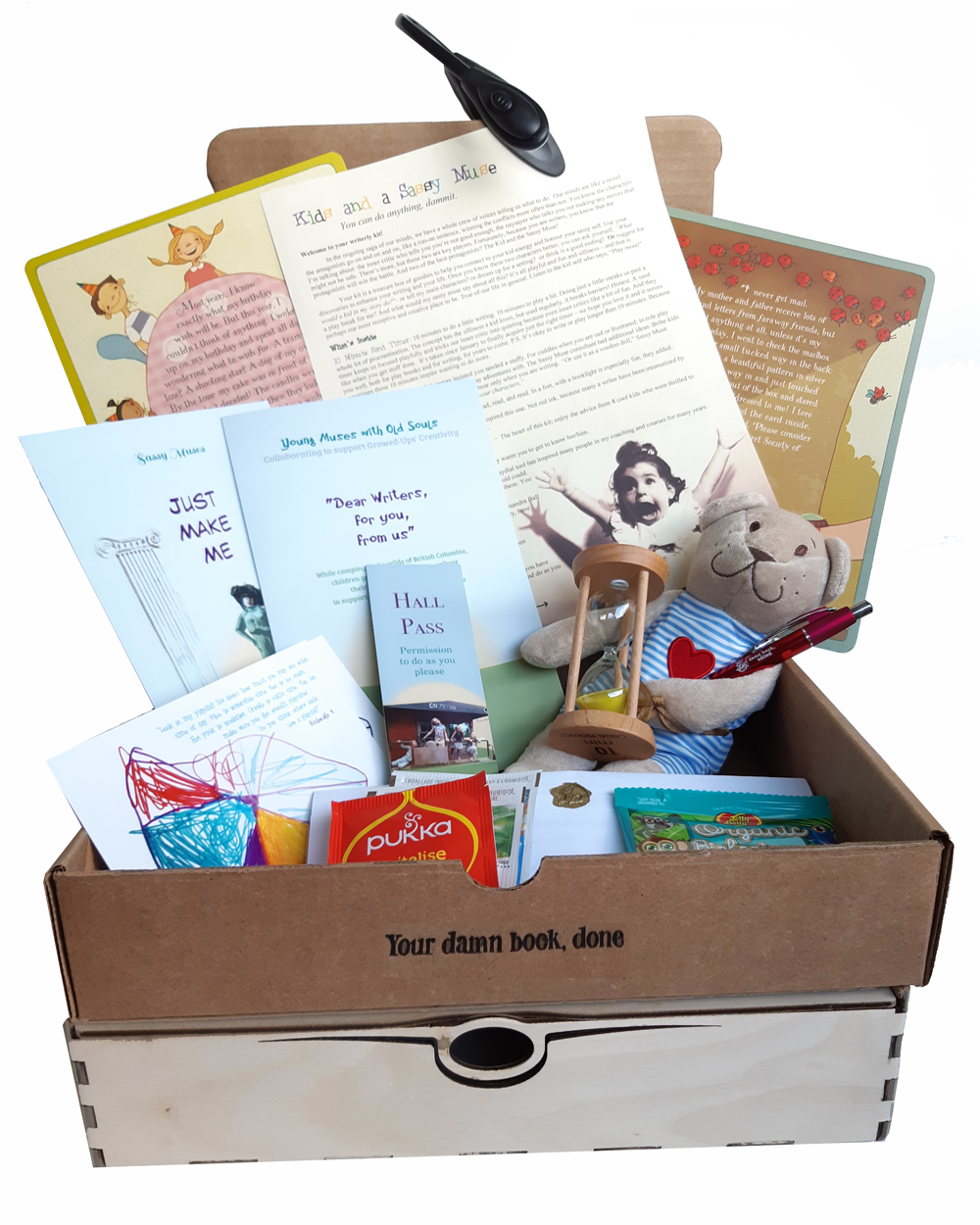 Kids and a Sassy Muse
 You can do anything, dammit.
Intro
            In the ongoing saga of our minds, we have a whole crew of voices telling us what to do.  Our minds are like a novel. the antagonists go on and on and on, like a run-on sentence, winning the conflicts more often than not. You know the characters I'm talking about: the inner critic who tells you you're not good enough, the naysayer who talks you out of making any moves that might not be safe. There's more, but those two are key players. Fortunately, because you are writers, you know that the protagonists will win the battle. And two of the best protagonists? The Kid and the Sassy Muse!
            This kit is a treasure box of goodies to help you connect to your kid energy and honour your sassy self. Use your discoveries to enhance your writing and your life. Once you know these two characters better, you can ask yourself, "What would a kid in my story do?"- or tell my main characters? or dream up for a setting? or think is a good ending? Or suggest for a play break for me? And what would my sassy muse say about all this? It's all playful and fun and silliness – and that is perhaps our most receptive and creative place to be. True of our life in general. Listen to the kid self who says, "Play more!"
What's Inside
10 Minute Sand Timer: 10 minutes to do a little writing. 10 minutes to play a bit. Doing just a little sneaks us past a whole lot of procrastination. The concept has the silliness a kid loves, but used regularly, it breaks barriers! We hope you love it and it serves you well, both for play breaks and for writing, for years to come. P.S. It's okay to write or play longer than 10 minutes. Because sometimes those 10 minutes inspire wanting to do more.
A stuffy!? Yes, the kid collaborators insisted you needed a stuffy. For cuddles when you are sad or frustrated; to role play the characters in your book; and to share your play adventures with. The Sassy Muse consultant had additional ideas: Bribe kids to leave you alone by letting them play with the bear only when you are writing. "Or use it as a voodoo doll," Sassy Muse snickers, "An enhanced roleplaying activity for your characters."
Book Light: The kids advise that you read, read, read, and read. In a fort, with a booklight is especially fun, they added.
'Damn Book, Edited'Pen: Sassy Muse inspired this one. Not red ink, because many a writer have been traumatized by red ink corrections as a child. So. Not. Red. Ink.
"Dear Writers, For You, From Us"–The heart of this kit; an original booklet full of advice from 8 cool kids who were thrilled to help you get to writing and playing more often.
"Just Make Me'–The Sassy Muse really wants you to get to know her/him in this original booklet.
Author's Letter by Theresa Kannenberg: A magical story reminding us of the power of imagination with encouragement to be our brave and adventurous self. Theresa is a published author living in Japan and a member of our 'Damn Book, Done' group. Find Theresa at the North Fence on Facebook.
The Playdial and the Sassdial: This playdial tool has inspired many people in my coaching and courses for many years. I could not have dreamed this up, but a 4 year old could. And a Sassy Muse could steal and alter it. Do these. You will be happier for it!
And then... Storystarter Cards by M.H.Clark and Alexandra Ball:  Two beautiful cards, each with a unique story, have many uses. 
1. Finish the story.
2. Finish the story while pretending to be 4 years old, 8 years old, 12 years old. 
3. Finish the story while pretending to be a teen – you may discover some sassiness there! 
4. Decorate your writing space with them.
And of course, a Hall Pass.Yes, writers, you have been granted permission to leave the room and do as you please! Granted by the best authorities.
Teas and candies chosen by children. I won on the organic compromise.
~~~~
p.s.  it was a risky move to create this kit - I wrote about it here.
Damn Book, Published!

July 2019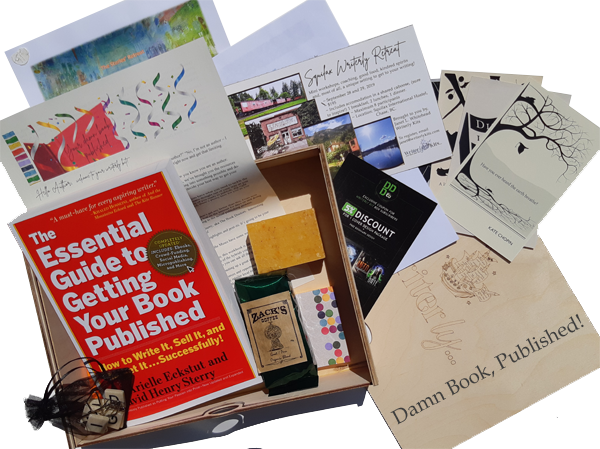 What's Inside 
 What can stop writers dead in their tracks? The  overwhelm of publishing!  In this kit, we share the resources to turn the massive mystery of publishing into something do-able; treasures to help you decide your best way to get your written works out there. 
The Essential Guide to Getting Your Book Published:  This will be your go-to for all your publishing quesitons and answers.  Also included sticky notes and highlighter -  This is going to be your most well worn best friend book ever. Plus a letter from the authors!  

The Stories Retreat:  A story about where your books in limbo go while waiting for you to publish. The muses get involved to help you make it happen, with museplay activities and encouragment from your muse. 
 
Book Proposal Template for Indie Authors:  Friessen Press shares a number of resources for our writers, including a private webinar to ask questions about assisted self-publishing. 
 
Deranged Doctor:  A discount for indie authors looking for cover and promo material design. 
 
LIterary Postcards:  What to do while waiting to hear back from query letters and agents? You could write letters on these really cool postcards. 
 
Organic Made with Love Soap:  Orange and cinnamon to brighten up your days! 
 
The Vic Downtown: Our new local coffee shop has brewed up a brand new organic blend sure to delight. 
Random Letters:  What will these letters inspire? Story? Poem? Turn them into new jewellery? 
 
Writing opportunities!
Introducing upcoming retreats and awesome contests brought to you by Writerly Kits and Squilax International Hostel in Shuswap, BC.  Because you know you've always wanted to sleep in a caboose and write sitting on a dock 
 
The Survival Kit for Writers
May 2019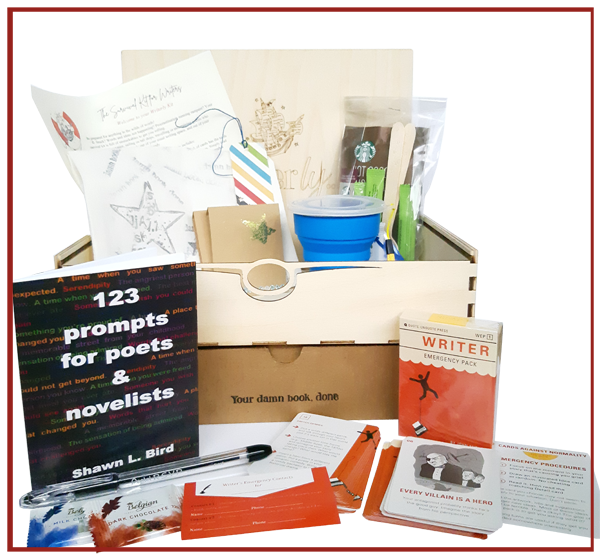 Be prepared for anything in the wilds of words!
This kit full of treasures pack up into the great little travel bag to ensure you have what you need to keep writing, anytime, anywhere!
Writers Emergency Pack: When your story gets stuck, this deck of cards has what you need.Fix plot holes. Spice up your characters. Rethink your themes. We fell in love with this product and the company. Through a kickstarter, not only were they able to launch this inspiring product, they donated 8000 decks of cards to youth writing programs! 
123 Prompts for Poets and Novelists by Shawn L. Bird:   Pack this chapbook size collection of brilliance anywhere you go!  Pop over here to learn more about author, Shawn Bird.
Collapsible Mug: Always handy for your favourite writerly beverage!  For the times when brewing a cup isn't an option we've also includedinstant beverages: Starbucks instant coffee (okay, we tried to find an organic instant, but only Starbucks didn't taste like dishwater),  Matcha Tea, Hot chocolate.
Bamboo spoons: Practical, but comes with a reminder to stir in a little of what you need:  more time? an agent? creative flow?  Ask and it's yours!  (Star theme throughout to remind you of the magic)
Belgian Chocolate:  Just because
Matchbooks:  Every emergency kit needs matchbooks. Ours are extra special!  One comes with an option to write a mini matchbook novel and contribute to the upcoming anthology of Writerly Kits writers. (Yes, we are going to get published)  or use it to reallly fine tune what matters in your current WIP.  The second is a mini Audition kit - because that technique is the best damn decision-making, idea-inspiring tool ever! (see previous kit for details of The Audition)
Letter from Lisa Stromme:  International author, Lisa, shares stories of the challenges of far too many edits, a matchbook, a coach, and how a really good laugh can shift everything.
Pentel Pen and a handmade Starshine Bookmark.  What writer doesn't need more of these items?
Canvas Travel Bag:  Tuck all your survival gear in our water resistant Damn Book Done canvas bag and your survival kit is ready for anything!
Nurture Your Nature

March 2019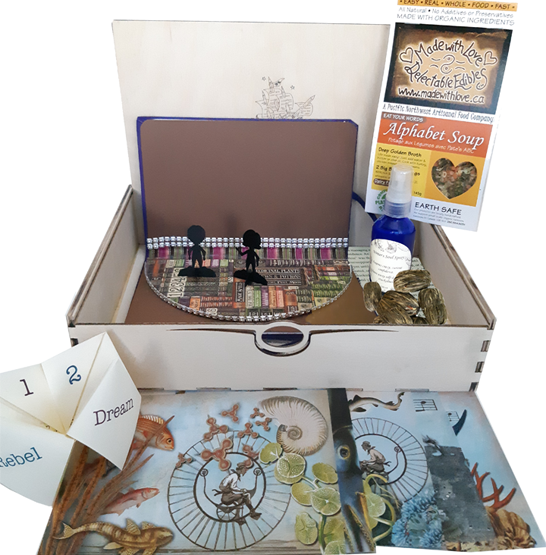 Kindness and self-care with a side of wild rebelliousness to support your creative calling.  Self-care treasures are timely-  As writers writing, we sometimes forget to look after ourselves. And for those who promised themselves you would write more in 2019, and now you are not, you especially need a little love.
What's Inside:
The Audition:  My favourite technique for finding answers, making decisions, (in life and in writing), doing character studies, and even to determine where the hell this story is supposed to be going, is The Audition. I was simply going to share the how-to's of the process but I know that hearing about a great idea doesn't mean a person will try it. So, we built the stage!! With characters and instructions, it is ready to be the coolest way to get unstuck ever.
Art Card Collection and Artist's Letter from Solange Belleforte. Solange is a world-travelling artist and a very witty storyteller, with an equally organized and intellectual side that supports her creative adventures. Solange shares an inspiring letter with the writers and a stunning collection of her art cards. Sure to inspire the storyteller in you.
Writer's Soul Spray: Inspires crazy curious confidence. Chases away self-doubt and stuckedness. T his organic essential oil spray is created especially for Writerly Kits by the aromatherapist at  Love and Lavender, Penticton BC. 
Artesian Blossom Tea:  A green tea blend that when steeped blossoms into a stunning flower. "As it blooms, so do you."  Or you can imagine it's a science fiction character just arrived from outer space. Nice story prompt.
Paper Fortune Teller:  The kid in you will love this old fashioned folded paper game.Nurturely related for the writerly soul.
Alphabet Soup:  Surely magic happens when a writer fills their tummy with words.  This organic soup is made by local food artisan, Made With Love Urban Farm, and ships worldwide. 
Black Out Poetry:  What better canvas for black out poetry than pages from Word by Word - The Secret Life of Dictionairies by Kory Stamper?  Writers sharing their results win extra gifts. Plus, current writers are working on an anthology of written works inspired during this year of Writerly Kits.
The Lion and The Lamb: A wee essay with a big wallop - helping ensure that nurturing you becomes a part of your writerly self care, while also nuturing the inner rebel - who really has all the answers.
Time Travelling

January 2019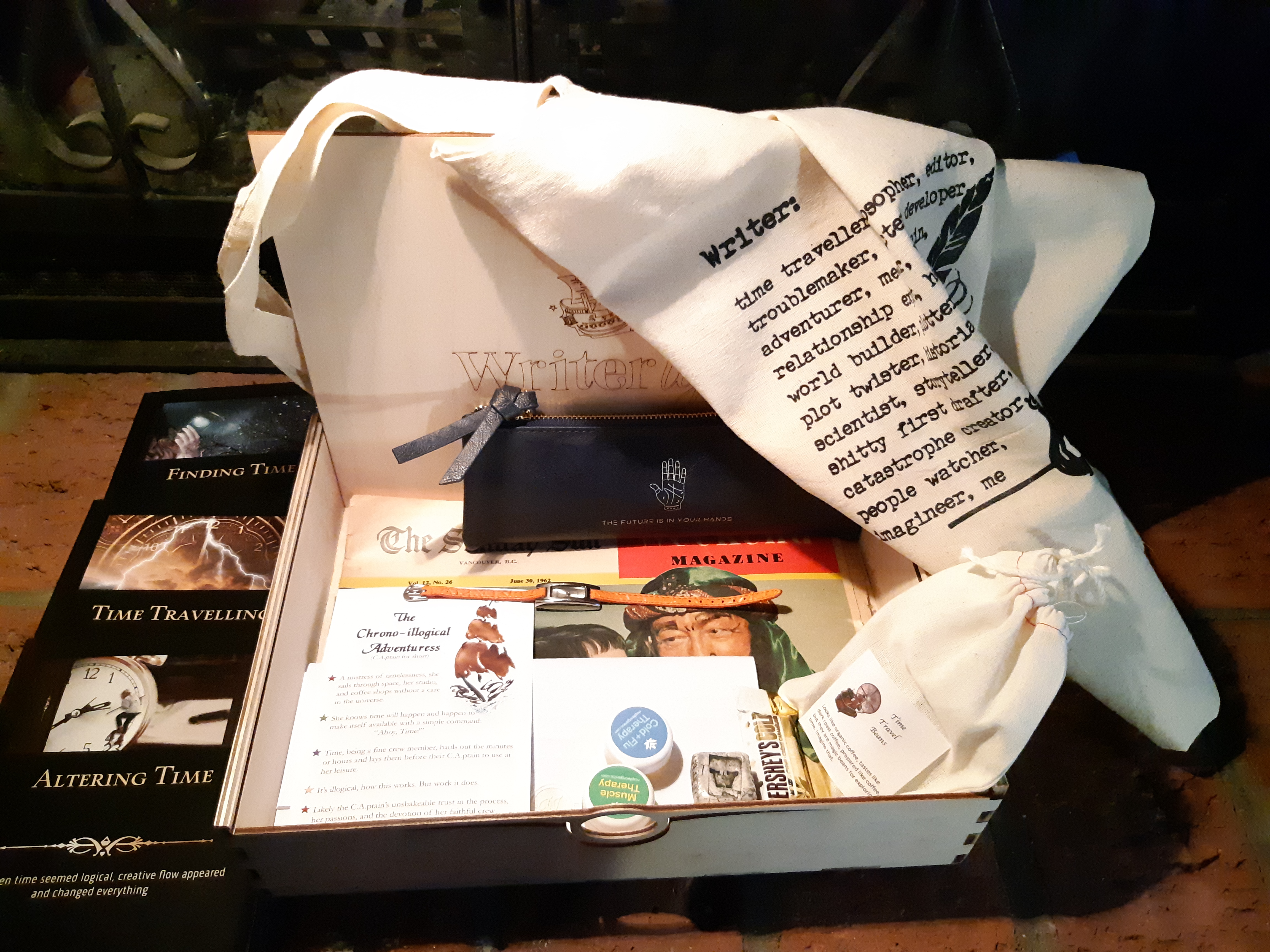 Pen in hand or keyboard at their fingertips, a writer can travel a century in an hour, change the course of history in a few minutes, or leave a legacy of their life with one small story.
Whoaa, that's a lot of power in those fingertips. No wonder a writer can get overwhelmed! Perhaps no surprise that writers can have trouble finding time to get to their passion.
And so, we've created a kit full of treasures to help writers both with their written works and getting to their writing:
The Treasures:
Rethinking time: Three curious booklets full of opportunities to rethink time - from finding time; to literary time travelling in sci fi, memoirs, or historical fiction; to contemplating the magic possibilities of altering time.
Writerly Kits Original Printed Cotton Bag:  The best definition ever of a writer on this handy bag. You'll never forget all that you are with this nearby.
Pencil Case (pencils included) : A quality case with a message both inside and out. What's your future?
Maple Organics: Muscle Therapy and Cold and Flu therapy ointments to keep you writing this winter.  A favourite of mine and based in Vancouver, Maple Organics is the only certified organic pharmaceutical products in North America.
S.I.P.s: Simple Inspiring Playthings to have with your coffee. This kit they come in all shapes and sizes
    1. original newspaper articles and magazine pages from the 60's and 70's - perfect for exploring travelling in time in your writing.
    2. An antique watch, each one unique, with a writing challenge.
New York Midnight Short Story Challenge $25 off registration coupon: Thanks to our author contributor, Jessica Hewlett, who shared the inspiring value of participating in the NYMidnight challenge; we contacted the organizers who leaped in to support the Writerly Kits writers with this excellent 50% off coupon.
Time Dice:  The Curator has been playing with porcelain again, creating an excellent opportunity to leave your writing time up to chance when structure isn't working so well.
Time Travel Beans:  Looks like organic coffee, tastes like dark roast, prepared like coffee, but these are actually time travelling magical beans. Imagine that.
A New Alternate Identity Trading Card:  The Chrono-illogical Adventuress can be the captain of your time! So fun!
See also Video Opening below!
Hauntings and Heroes

November 2018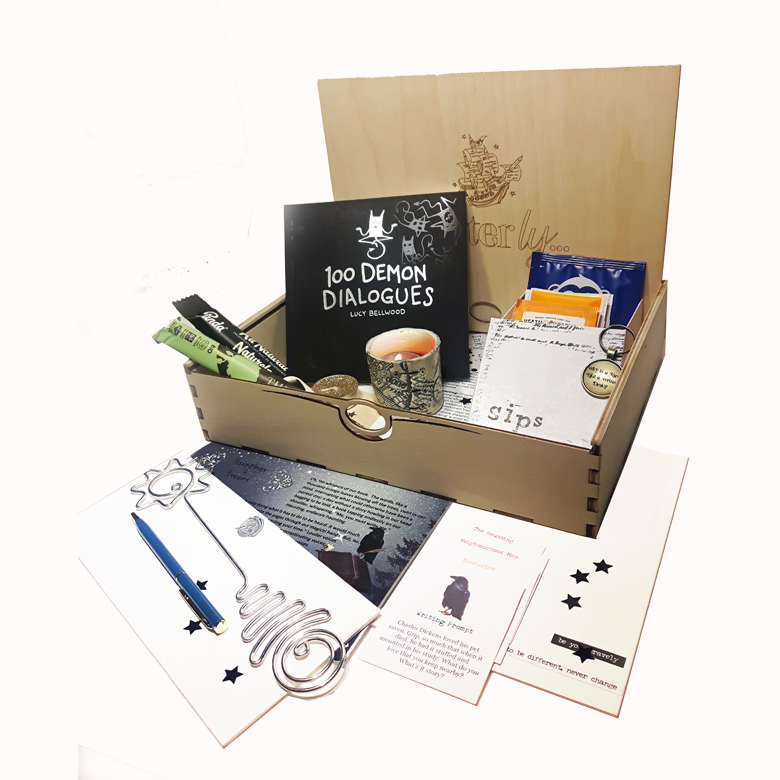 This classy and magical kit arrived at the perfect time of year to make friends with your creative monsters and the book that haunts you.  
What's Inside
Birchwood Writerly Box:  a treasure all on it's own. Designed and crafted by Kyle Rankin at Kamloops Makerspace. Supporting our creative community!
100 Demon Dialogues by Lucy Bellwood: This illustrated book is so inline with our Novel Minds Process - the process that uses your imagination to explore, discover and play with the characters in your head. Your going to love and relate to Lucy's demons so much that I'm sure you'll soon get to love the nasty little naysayers in your mind, plus givemuch more credit to the hero who can get you to your creative process more often and more easily!  Also, the cover of this book is extraordinary: Inspiration for your future covers!
Author's Letter from  Lucy Bellwood: Such an authentic letter from one writer to another, about her life as a writer. Written from a geranium-studded balcony as she tours with her new book.
 Almost Blank Notebook:  During Nanowrimo, or anytime, practise the  technique of Lucy Bellwood. Comes with random quotes. We trust that synchronicitymakes sure the quotes are the right ones for you.
Singing Wands:  Pure magic to clear the way for your writing or your life. Each one unique in it's look and it's sound. Incredibly grateful that the creator, Bip Nelson, want to support our writers in this beautiful way.
Porcelain Writerly Candle Pot:  Made with love by your curator, who is also a ceramic artist. Our writerly ship, cogs,  damn book done may be found on each one, highlighted with 24 kt fire-on gold. Nothing like lighting a candle to mark the start of a writing session. Comes with silver and gold teacandles.
Raven Keychain: A charming brass keychain with a quote from Alice in Wonderland. A nice reminder that you are a writer, no matter what is going on in your day.
Inky Sisu Editing Tips:  A great collection of tips from professional editor, Leena Niemela,  to keep in mind as you head into your writing, plus what you need to know when it is time to get your book edited.
Wellness Teas:  A collection of organic teas to provide a little balance to all the coffee writers are likely to drink during Nanowrimo! 
Best Damn Licorice Ever:  I was stunned by how delectable Panda All Natural Licorice is! For those who don't love licorice, we recommend it be used as a bribe for beta readers, editors or small children.
Theobroma Chocolate Bar:  Yummy and organic, a treat to celebrate your writing times! Or, you know, maybe the minute you open the kit.
A pen, but of course! From our collection of pens, we hope that the perfect one is the one that landed in your box.
S.I.P.s:  A collection of unique writing tips, triggers, and inspiration to keep you writing, especially handy when one feels stuck.
Imagination Gone Wild!

September 2018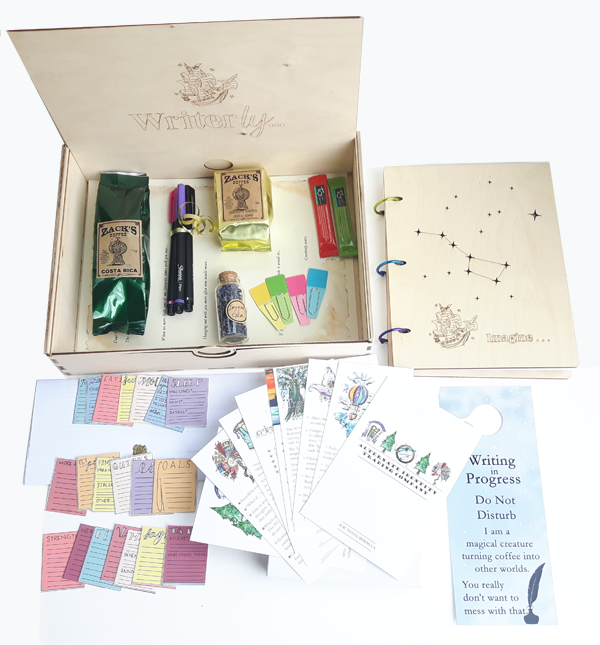 Landing on doorsteps, an  experience that will take your imagination and intuition to a whole new level!  Really, this is a gift for you from your imagination. 
As creative folks, I know you already have a good imagination. You already do think outside the box. But, we do end up creating a new box - it's a weirder shape than the average box  but it, too, can use some wild ways to take it up a notch;  for writing our books, for making it easier to get to our writing, and even more, to enhance all we do in our lives.  
What's inside:
BirchwoodKit: Handcrafted artisan birch writer's kit designed and made locally especially for Writelry Kits. Value: $44
Writerly Notebook and Planner: Value $44  An unusual twist -  getting to use your imagination to help you get organized and focussed in a way that makes sense to you. Our imagination is everything - including key to making those typically logical left brain functions work better! 
For your planner, we've included:
Birchwood engraved notebook covers, designed by us and created by Kyle Rankin and Kamloops Makerspace.
Dividers with a pocket, an old fashioned library card,and an oldstyle luggage tag.
Sections:
Weekly planner pages
Creativity and imagination builders 
Quality plain paper
Lined paper
Post-it dividers
Art paper
Torn paper (with a purpose!)
Sharpie Fine Art Pens:  Value $5 The best thing Sharpie has made yet, we think! 
Alternate Identity Trading Company Cards: Value $12  A collection of wild characters nagged to be included to assist writers as they take their imaginations to a whole new level, or ten.
Character stickers: Value $8  Explore traits, quirks, and even sleeping habits of the characters in your stories, (or even in your novel mind!) Great moveable stickers for your writerly notebook!
Zack's Chocolate Covered Coffee Beans: Value $5   Locally roasted and loved and wow to kicking your imagination in gear! 
Zack's Costa Rica Blend Coffee Beans: Value $4  A favourite in town!
Imagine Calm Lavender:  Value $8 To calm that wild mind when needed. Grown, harvested and created by children who also sprinkled extra magic on top.  
Do Not Disturb Door/computer hanger:  Value $ 6  Fun, isn't it?
Letter from Indie Author, Dennis Staginnus:  Priceless support and encouragement
Letter to and from your imagination: $3
Green Tea packets:$1
Wood Kit total retail value: $137
Kraft Kit total retail value: $97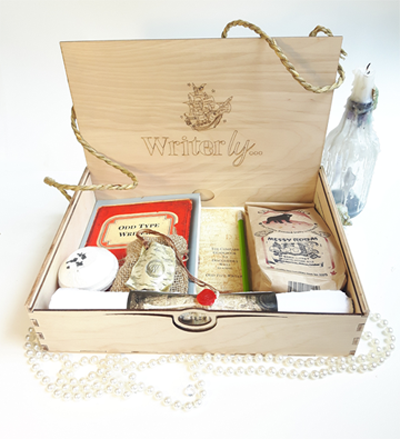 Our first kit ever might always be my favourite! 
       A ship at sea can face raging winds and wild seas, or endless days of no wind, drifting nowhere. The ship's survival depends on being seaworthy – no rotting wood hiding away in dingy corners, sails regularly surveyed and stitched, resources for repairs kept in good shape, and a sailor's sharp eye on her unique nuances as she confidently, bravely, and joyously explores the endless possibilities of the mysterious ocean. 

      As a writer, you are both the ship and the crew. There's no straight track from point A to B, nor would you wish there to be. Your unique way of thinking is what calls you to writing, and you love that there are endless ways to explore your stories and your life. It's a bit crazy, though, how much can get in the way: advice from those considered experts, advice from family or friends, fear of being 'not good enough,' Netflix, and the list goes on and on. In this Writerly Kit, I am delighted to share creative tools and resources for you to discover YOUR best way of getting to your writing more often. 
What's Inside:
Writerly Kit - a stunning engraved birch wood box designed especially for Writerly Kits by Kyle Rankin, and supports Kamloops Makerspace, a local non-profit creative collaborative. (For subscribers, every 4th box will be a birchwood box. Regular, but nice, packaging in between)  This wood box is in it's natural state and becomes a part of your creative adventures: write quotes on it, paint it, stain it, sticker it, make it your own!
Odd Type Writers with Compass Guide full of activities and insights to help writers find their own best way to get to their writing.  This is the key to this kit - just what you need to get rid of all those nagging thoughts getting in the way and find YOUR ways to get to your writing more often! 
Oso Negro organic coffee - freshly brewed  in Nelson BC for us called 'Messy Room.' A subtle hint that you don't need to have your house clean before you write.
Treasures Found Shower Steamer - enhancing the magic of inspiration in the shower. Created for Writerly Kits by Love & Lavender, Pentiction BC
Letter from LIsa Stromme, international author - inspiring us as she shares the highs and lows of the wild seas of a writerly life.
Nautical Talisman - See how many knots you travel in your writing with this hand made porcelain talisman. (Created by your curator who is also a ceramic artist)
Eco Friendly Pencil - with a challenge to get it as small as our famous tiny pencil and win prizes.
SIPs - an envelope of inspiration and writing triggers to have with your coffee or tea or whenever you feel stuck.
Navigational Mind Map - a treasure map and radiant thinking process that make our minds happy.
Enjoy our official reveal video with an 11 year old cohort in creativity leading the way!
© 2019 Writerlykits. All rights Reserved